Garden Route National Park in South Africa
---
---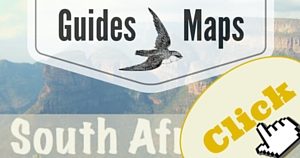 Lush green forest, inland lakes and the sea make up the Garden Route National Park. This National Park is actually three main Parks between George on the south coast of South Africa along to Plettenberg Bay (around 100km of coastline and mountain) Note that nature reserves continue all the way to Port Elizabeth and forms a nature lovers paradise for a drive along here.
The three parks that make up the Garden Route National Park, are Wilderness National Park, Knysna National Park and Tsitsikamma National Park. Make sure to give yourself time to see these if you are in the area as you are treated to indigenous forests, the Knysna Lourie, the five varieties of Kingfisher and winding rivers and inlets. There are activities galore here, so whatever your pace you can find something to do that will enable you to see and explore the area.
In spring and summer the blooms will overwhelm you as you wander around these natural areas, and should you wish to take the train, you will be treated to rugged coastline too. You can whale watch right from the shores and experience the tropical feeling of huge overgrown forests.
If you've been, why not tell me about it and send a photo or two for the gallery. (See details at the bottom)
Maurice
---
Below find stories and adventures for Garden Route National Park.
Have you been? Tell us about it – Activities, where you stayed, what you did, how long you went for, what you saw… anything, we love stories!
"Less than 2 minutes to leave your story!"
[rwp-review id="0″]
Videos and Playlists for the Garden Route National Park

Details
 Contact Details:

Knysna Section

Telephone Numbers
Thesen Island +27 (0)44 302 5600
Harkerville Forest +27 (0)44 382 2095
Diepwalle Forest +27 (0)44 532 7770 /
+27 (0)44 382 9762/3)
Address
SAN Parks Knysna Office
Thesen Island
Knysna
South Africa
GPS:
Main Office: S 34° 02' 57.80″ E 23° 02' 44.49″
Map
Website
www.sanparks.com
Wilderness Section
Telephone Numbers
Reception Desk (24 hours) +27 (0)44 877 0046
Farleigh Forest +27 (0)44 356 9021
Nature's Valley +27 (0)44 531 6700
Address
Wilderness National Park
Dumbleton Road
Wilderness
6560
South Africa
GPS:
Ebb n Flow: S 33° 59′ 16.424" E 22° 36′ 29.496"
Nature's Valley: S 33° 58' 19.0" E 23° 33' 48.2"
Map
Website
www.sanparks.com
Tsitsikamma Section
Telephone Numbers
Storms River Mouth +27 (0)42 281 1607
(security gate remains open 24/7)
Tsitsikamma Forest +27 (0)42 281 1557
Address
Tsitsikamma National Park
Stormsriver
6308
South Africa
GPS:
Storms River Mouth: S 34° 01' 18.8" E 23° 53' 47.9
Map
Website
www.sanparks.com
 Nearest Airport
George (20km from Wilderness National Park)
Port Elizabeth (197km from Storms River)
Size of Park
157 000 ha
Opened in
1964
 Park Map
SANParks Knysna Map
SANParks Tsitsikamma Map
SANParks Wilderness Map
 Closest City/Town
George
Port Elizabeth
Habitat
Forest
Marine
 Average Temperature
Summer:
Max: 28°C
Min:  15°C
Winter:
Max: 19°C
Min: 7°C
Average Rainfall
715mm
Common Animal Species
African Elephant, Klipspringer, Vervet Monkey
Animal List
Caracal, Large-spotted Genet, Bottle Nose Dolphin
SANParks Garden Route Animal List
Bird List
Cape Lourie, Kelp Gulls, African Black Oystercatchers
SANParks Garden Route Bird List
 Unesco World Heritage Site
 No (But Marine Protected Area of Importance)
Activities
Gallery
[Best_Wordpress_Gallery id="26″ gal_title="Garden Route National Park"]
If you have pictures you want to share with me so I can put them in the Gallery, please send them to me at [email protected] with "(PARK NAME) National Park Gallery Pictures" in the subject line please.

*I have tried to accurately represent facts and figures and give the best information possible listed above. If you should note that something is wrong please bring it to my attention with a link to where I can find factual evidence for the contrary. I take no responsibility for this information and offer it as information only. My email is [email protected] and title your email as "Correction: (PARK NAME) National Park" please.