Kgalagadi Transfrontier Park in South Africa
---
---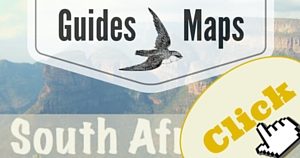 The Kgalagadi Transfrontier Park is a 3 800 000ha Park, that was the merger in May 2000 between the South African Kalahari Gemsbok National Park and the Botswana Gemsbok National Park and is one of today's largest land masses dedicated to ecology.
The Kalahari has always held mystery and wonder for people as it holds salt pans, thornveld and is desert like in habitat. The lions here are special too and worth looking out for. Be prepared for a long drive to get to Kgalagadi Transfrontier Park. Situated in the far North of South Africa it is many km's away from easy access. You can reach the park via the Upington Airport and then self drive the final part, but I am assured you will not be disappointed.
The sky is crisp and clear and the land has an openness and ruggedness that will have you relaxed and whisked away from this modern world in no time. Come prepared though! Many routes will not allow you to go if you are not self sufficient in your own right!
Find the SANParks Brochure here.
Maurice
---
Below find stories and adventures for Kgalagadi Transfrontier Park.
Have you been? Tell us about it – Activities, where you stayed, what you did, how long you went for, what you saw… anything, we love stories!
"Less than 2 minutes to leave your story!"
[rwp-review id="0″]
Video and Playlist for  Kgalagadi Transfrontier Park
Details
 Contact Details
 Telephone Number
+27 (0)54 561 2000
Address
Kgalagadi Transfrontier Park
Upington
8800
South Africa
GPS:
Main Reception: S 26° 28′ 33.286" E 20° 36′ 46.921"
Website
www.sanparks.com
 Nearest Airport
Upington (252km away)
Size of Park
959 103 ha
Opened in
1931
 Park Map
SANParks Kgalagadi Map
 Closest City/Town
 Upington
Habitat
Desert
 Average Temperature
Summer:
Max: 33°C
Min:  17°C
Winter:
Max: 20°C
Min: 3°C
Average Rainfall
93mm
Common Animal Species
Gemsbok, Meercat
Animal List
Baboon, Kudu, Lion
SANParks Kgalagadi Animal List
Bird List
Stork, Martial Eagle, Kite
SANParks Kgalagadi Bird List
 Unesco World Heritage Site
  No
Activities
Gallery
[Best_Wordpress_Gallery id="29″ gal_title="Kgalagadi Transfrontier Park"]
If you have pictures you want to share with me so I can put them in the Gallery, please send them to me at [email protected] with "(PARK NAME) National Park Gallery Pictures" in the subject line please.

*I have tried to accurately represent facts and figures and give the best information possible listed above. If you should note that something is wrong please bring it to my attention with a link to where I can find factual evidence for the contrary. I take no responsibility for this information and offer it as information only. My email is [email protected] and title your email as "Correction: (PARK NAME) National Park" please.