Zangezur National Park in Azerbaijan
---
---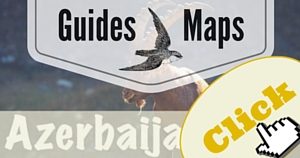 Zangezur National Park in the Nakhchivan Autonomous Republic is a National Park that cannot be entered without special permission from the Ministry of Ecology and Natural Resources in Azerbaijan. The area has a rich biodiversity and is home to the rare Anatolian Leopard.
The Zangezur National Park border the Armenian Zangezur State Park inadvertently creating a cross border Park that should protect the flora and fauna associated with these high mountain regions. The highest peak is 3906m.
There are a number of mammals that could be seen here and it is hoped that the area will become a tourist site in the future.
If you have been or have images/video of any of these sites, please send them in to [email protected] and share the beauty of our world.
Maurice
---
Below find stories and adventures for Zangezur National Park.
Have you been? Tell us about it – Activities, where you stayed, what you did, how long you went for, what you saw… anything, we love stories!
"Less than 2 minutes to leave your story!"
[rwp-review id="0″]
Videos and Playlist for Zangezur National Park
Details
Activities
NO ACTIVITIES CAN BE DONE FREELY HERE WITHOUT THE EXPRESS PERMISSION OF THE MINISTRY OF ECOLOGY AND NATURAL RESOURCES IN AZERBAIJAN
Gallery
NO GALLEY IMAGES YET! – Do you have some? See below how you can help!
If you have pictures you want to share with me so I can put them in the Gallery, please send them to me at [email protected] with "(PARK NAME) National Park Gallery Pictures" in the subject line please.

*I have tried to accurately represent facts and figures and give the best information possible listed above. If you should note that something is wrong please bring it to my attention with a link to where I can find factual evidence for the contrary. I take no responsibility for this information and offer it as information only. My email is [email protected] and title your email as "Correction: (PARK NAME) National Park" please.