Gobustan State Reserve in Azerbaijan
---
---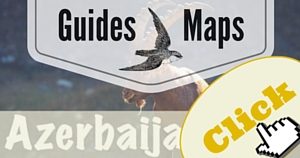 Gobustan State Reserve (or Qobustan Milli Parkı) is a recognised UNESCO World Heritage Site for it's Rock Art Cultural Landscape. Not far from Baku, it is worth a short drive to visit. The region is also part of the mud volcanoes, some of the largest in the world, and near Baku the Yanar Dag, or Burning Mountain.
I wanted to include this State Reserve because of the unique nature of the Petroglyphs that are in the area, with a visitor center available it would be a pity not to visit.
Some of the carving date back to prehistoric times believed to be between 5000-40 000 years old, with ancient caves and settlements in the area. The climate is is very dry, hence the preservation of these carvings with very little rainfall.
Read more about the Petroglyphs from the Smithsonian Institution.
If you have been or have images/video of any of these sites, please send them in to [email protected] and share the beauty of our world.
Maurice
---
Below find stories and adventures for Gobustan State Reserve.
Have you been? Tell us about it – Activities, where you stayed, what you did, how long you went for, what you saw… anything, we love stories!
"Less than 2 minutes to leave your story!"
[rwp-review id="0″]
Videos and Playlist for Gobustan State Reserve
Details
Activities
Gallery
NO GALLEY IMAGES YET! – Do you have some? See below how you can help!
If you have pictures you want to share with me so I can put them in the Gallery, please send them to me at [email protected] with "(PARK NAME) National Park Gallery Pictures" in the subject line please.

*I have tried to accurately represent facts and figures and give the best information possible listed above. If you should note that something is wrong please bring it to my attention with a link to where I can find factual evidence for the contrary. I take no responsibility for this information and offer it as information only. My email is [email protected] and title your email as "Correction: (PARK NAME) National Park" please.