Hirkan National Park in Azerbaijan
---
---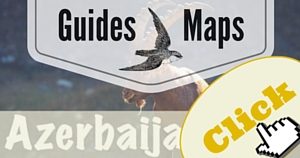 Hirkan National Park in Azerbaijan is one of the larger National Parks the country has designated. Increasing its size to include part of the virgin Talish Mountains and ranging all the way to the Caspian Sea. The area is being developed for ecotourism and environmental education and aims to be a show piece for Azerbaijan.
The Hirkan National Park rises and falls to a height of only 1000m but there is a different in the types of tree species as you progress. The Lankaran zone has so far been protected and remains as one of the prime subtropical forests in Europe.
The wildlife in Hirkan National Park includes the lynx and wild cat, but it also is home to the Front-Asian Leopard. The Front-Asian Leopard is threatened and listed on the IUCN as endangered as their habitat is diminished by urbanisation, infrastructure and trophy hunting. There is also the belief that they should be killed upon sight in certain parts adding to their endangered designation. The WWF have been running a long term conservation program to try and restore the numbers of Caucasian Leopard too.
Hirkan National Park is also famous for it's natural monuments of which 'Guru Nabi'  is the most famous of natural forest monuments in the Astara District. Here is a great story from Vaso Gabunia on his trip to Hirkan with 'Babakhan – the Leopard Man'.
If you have been or have images/video of any of these sites, please send them in to [email protected] and share the beauty of our world.
Maurice
---
Below find stories and adventures for Hirkan National Park.
Have you been? Tell us about it – Activities, where you stayed, what you did, how long you went for, what you saw… anything, we love stories!
"Less than 2 minutes to leave your story!"
[rwp-review id="0″]
Videos and Playlist for Hirkan National Park
Details
Activities
Gallery
NO GALLEY IMAGES YET! – Do you have some? See below how you can help!
If you have pictures you want to share with me so I can put them in the Gallery, please send them to me at [email protected] with "(PARK NAME) National Park Gallery Pictures" in the subject line please.

*I have tried to accurately represent facts and figures and give the best information possible listed above. If you should note that something is wrong please bring it to my attention with a link to where I can find factual evidence for the contrary. I take no responsibility for this information and offer it as information only. My email is [email protected] and title your email as "Correction: (PARK NAME) National Park" please.