Shirvan National Park in Azerbaijan
---
---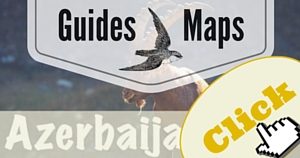 Shirvan National Park in Azerbaijan is surrounded by two other protected state reserves, Shirvan State Nature Reserve and Bandovan State Natural Sanctuary. Shirvan National Park is mainly set up to protect the Goitered Gazelle and water birds found in this lowland area. 
The area that Shirvan National Park is protecting used to be a part of the Caspian Sea, namely the bottom of it, and the climate is hot and dry leading to desert like conditions. This has created a specfic flora that has adjusted to the saline conditions in the area.
Due to the wetlands there is also great opportunity to see nesting and migratory birds in the area. However, the main focus is the Persian Gazelle, which has the world's largest population.
Shirvan National Park is near to the Gobustan State Reserve (or Qobustan Milli Parkı), which has rock art and home to nearly 400 mud volcanoes, is certainly worth considering if in the area. (79km for Baku) The Gobustan State Reserve is a recognised UNESCO World Heritage Site for it's Rock Art.
If you have been or have images/video of any of these sites, please send them in to [email protected] and share the beauty of our world.
Maurice
---
Below find stories and adventures for Shirvan National Park.
Have you been? Tell us about it – Activities, where you stayed, what you did, how long you went for, what you saw… anything, we love stories!
"Less than 2 minutes to leave your story!"
[rwp-review id="0″]
Videos and Playlist for Shirvan National Park
Details
Activities
Gallery
NO GALLEY IMAGES YET! – Do you have some? See below how you can help!
If you have pictures you want to share with me so I can put them in the Gallery, please send them to me at [email protected] with "(PARK NAME) National Park Gallery Pictures" in the subject line please.

*I have tried to accurately represent facts and figures and give the best information possible listed above. If you should note that something is wrong please bring it to my attention with a link to where I can find factual evidence for the contrary. I take no responsibility for this information and offer it as information only. My email is [email protected] and title your email as "Correction: (PARK NAME) National Park" please.