---
---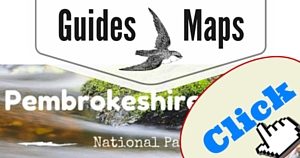 Pembrokeshire Coast National Park has plenty to do. The Pembrokshire Activities page should give you a fair idea of what is available. Paddling and diving to a leisurely stroll or cruise. Located in Wales and including the beautiful coastal area, Pembrokeshire Coast National Park certainly seems like a place to visit and enjoy the outdoors.
The jewel is the spectacular coastline which you are sure to see when you visit the park. Rugged cliffs and lovely sandy beaches all make this a varied and tranquil park to visit. Huge natural arches and sea stacks can be found here, and while you are looking, find the hidden sea caves too – just be careful of the tides!
Look out for the wildlife while you are here, Some may soar above you like the Red Kites and others may show or fin or two as they pass by, the Bottlenose Dolphins are quite common in Cardigan Bay. (and no, you don't need to wear a cardigan to visit!)
The Pembrokeshire Coastal Path is quite famous too, and from the reviews, it seems like many have spent a good day or more out wandering along it. There are plenty of events so have a look when things are happening when you go and enjoy yourself in Wales in the Pembrokeshire Coast National Park.
Maurice
---
Below find stories and adventures for Pembrokeshire Coast National Park.
Have you been? Tell us about it – Activities, where you stayed, what you did, how long you went for, what you saw… anything, we love stories!
"Less than 2 minutes to leave your story!"
[rwp-review id="0″]
Videos and Playlist for Pembrokeshire Coast National Park
Details
Contact Details
Telephone Number
(+44) 01646 624800
Address
Pembrokeshire Coast National Park Offices
Llanion Park
Pembroke Dock
Pembrokeshire
SA72 6DY
GPS
N 51° 41′ 56.639″ W 4° 56′ 12.859″
Website
www.pembrokeshirecoast.org.uk
Nearest Airport
Cardiff Airport (CWL) (157km away)
Size of Park
62 100ha
Opened in
1952
Closest City/Town
Newport
Habitat
Woodland/Moorland/Marine
Unesco World Heritage Site
No
Activities
Gallery
NO GALLEY IMAGES YET! – Do you have some? See below how you can help!
<— Return to the United Kingdom Page
If you have pictures you want to share with me so I can put them in the Gallery, please send them to me at [email protected] with "(PARK NAME) National Park Gallery Pictures" in the subject line please.

*I have tried to accurately represent facts and figures and give the best information possible listed above. If you should note that something is wrong please bring it to my attention with a link to where I can find factual evidence for the contrary. I take no responsibility for this information and offer it as information only. My email is [email protected] and title your email as "Correction: (PARK NAME) National Park" please.