---
---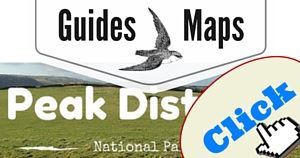 The Peak District National Park has Thor's Cave! What more can you say to that when you have the cave of a very powerful and famous god. Since the Peak District National Park is located on limestone, water has managed to dissolve deep fissures into the narrow valleys and underground rivers that create cave systems and springs which well up in the park.
In an effort to keep the Peak District National Park in a pure form, it was drawn up to exclude the large developed areas that surround it. Even going so far as to exclude Buxton to create a horse shoe look about the park at the south end. There is evidence of people living here for the Mesolithic and Neolithic periods too, and makes this place an area of constant human habitation.
While you visit the park and look at the way nature has shaped the area through the ice ages, the rivers will become a main source of discussion as they flow out of the part to fill the canals and mills within the area. Seeing Mam Tor should be of equal interest as you see it rise 517m into the air and form mostly of shale!
The Peak District National Park hosts a number of events throughout the year too, Aircraft wrecks walks and Bat expereince evenings to name a few. In August the Bakewell show come to town and is a must to visit too – as it is the oldest agricultrual show in the UK with almost 200 years of history behind it. Caving is popular here too and one of the ways to discover a National Park from under rather than above!
Maurice
---
Below find stories and adventures for Peak District National Park.
Have you been? Tell us about it – Activities, where you stayed, what you did, how long you went for, what you saw… anything, we love stories!
"Less than 2 minutes to leave your story!"
Videos and Playlist for Peak District National Park
Details
Contact Details
Telephone Number
(+44) 01629 816200
Address
Peak District National Park Authority
Aldern House
Baslow Road
Bakewell
Derbyshire
DE45 1AE
GPS
N 53° 13′ 17.618″ W 1° 40′ 21.156″
Website
www.peakdistrict.gov.uk
Nearest Airport
Manchester Airport (MAN) (53km away)
Size of Park
143 700ha
Opened in
1951
Closest City/Town
Manchester/Buxton
Habitat
Woodland/Grassland
Unesco World Heritage Site
No
Activities
Gallery
NO GALLEY IMAGES YET! – Do you have some? See below how you can help!
<— Return to the United Kingdom Page
If you have pictures you want to share with me so I can put them in the Gallery, please send them to me at [email protected] with "(PARK NAME) National Park Gallery Pictures" in the subject line please.

*I have tried to accurately represent facts and figures and give the best information possible listed above. If you should note that something is wrong please bring it to my attention with a link to where I can find factual evidence for the contrary. I take no responsibility for this information and offer it as information only. My email is [email protected] and title your email as "Correction: (PARK NAME) National Park" please.