---
---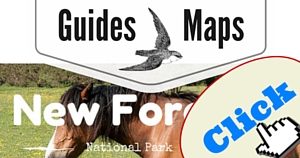 The New Forest National Park is situated in the South of England right next to Southampton, so getting here shouldn't be a problem. While you are here, there will be pleanty to see and do though. If you stay in Southhampton you'll get to see the nearby Portsmouth ship yards and Beaulieu Abbey, as well as Bronze Age barrows and castles.
The spectacle though is obviously the park. The New Forest Ponies are well known, so look out for them. They are a native breed to the British Isles, they have even set the road speed in the area to 40mph and have the right of way!
The New Forest s diverse in its landscape too and recognised as such. With bogs and moorland, forests and Woodland, this is a place you'll want to spend some time at. Look out for the Fallow Deer, Kingfishers, and the Snakelocks Anemone.
There is plenty to do here, so look at the local events before you go (The New Forest)  and at events in the National Park (New Forest National Park Events). From a canoe Easter hunt to Ghost hunting in October, there is a great choice. Oh and if you are the sporty type, then make sure to check out the Marathon in the New Forest happening in September too.
Maurice
---
Below find stories and adventures for New Forest National Park.
Have you been? Tell us about it – Activities, where you stayed, what you did, how long you went for, what you saw… anything, we love stories!
"Less than 2 minutes to leave your story!"
Videos and Playlist for New Forest National Park
Details
Contact Details
Telephone Number
(+44) 01590 646600
Address
New Forest National Park Authority
Lymington Town Hall
Avenue Road
Lymington
SO41 9ZG
GPS
N 50° 45′ 39.516″ W 1° 32′ 47.289″
Website
http://www.newforestnpa.gov.uk
Nearest Airport
Southhampton Airport (SOU) (12km away)
Size of Park
57 086ha
Opened in
2005
Closest City/Town
Southhampton
Habitat
Woodland/Grassland/Wetland
Unesco World Heritage Site
No
Activities
Gallery
NO GALLEY IMAGES YET! – Do you have some? See below how you can help!
<— Return to the United Kingdom Page
If you have pictures you want to share with me so I can put them in the Gallery, please send them to me at [email protected] with "(PARK NAME) National Park Gallery Pictures" in the subject line please.

*I have tried to accurately represent facts and figures and give the best information possible listed above. If you should note that something is wrong please bring it to my attention with a link to where I can find factual evidence for the contrary. I take no responsibility for this information and offer it as information only. My email is [email protected] and title your email as "Correction: (PARK NAME) National Park" please.