---
---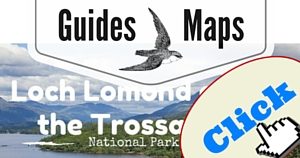 Loch Lomond and the Trossachs National Park  – "The Highlands in miniature". If you want a feel for what is north of this park, in the mighty Highlands of Scotland, then take a trip here and see how wonderful it really is. Just outside the major city of Glasgow you can but feel the immense power of nature and yet not have any of the city feeling at all!
Forests, Loch Lomond and 21 Munros (Mountains above 3000ft (910m) that can be walked, swan and climbed! It is the all round day out activity to break from your travels or form the normal stress of modern society. This landscape changes with every season, from the crisp green in Spring to the red and brown in autumn. The snow covered peaks are especially beautiful too!
On Lock Katrine you can travel on the historic SS Sir Walter Scott steamship if you have the time, or if you prefer hire a bicycle and ride on a perfect cycle track beside the loch for an adventurous day out.
The roads around the loch are small, but well maintained and there are plenty of spots to stop and take a picture or seven. Have a look at my day out exploring the park. There are plenty of activities and if you are really brave, why not take part in the Great Scottish Swim on Loch Lomond.
Maurice
---
Below find stories and adventures for Loch Lomond and the Trossachs National Park.
Have you been? Tell us about it – Activities, where you stayed, what you did, how long you went for, what you saw… anything, we love stories!
"Less than 2 minutes to leave your story!"
[rwp-review id="0″]
Videos and Playlist for Loch Lomond and the Trossachs National Park
Details
Contact Details
Telephone Number
(+44) 01389 722600
Address
Loch Lomond and the Trossachs National Park
Carrochan
Carrochan Road
Balloch
G83 8EG
GPS
N 56° 0′ 12.421″ W 4° 34′ 28.695″
Website
http://www.lochlomond-trossachs.org
Nearest Airport
Glasgow Airport (GLA) (25km away)
Size of Park
186 479ha
Opened in
2002
Closest City/Town
Glasgow
Habitat
Woodland/Grassland/Lochs
Unesco World Heritage Site
No
Activities
Gallery
[Best_Wordpress_Gallery id="35″ gal_title="Loch Lomond and the Trossachs National Park"]
<— Return to the United Kingdom Page
If you have pictures you want to share with me so I can put them in the Gallery, please send them to me at [email protected] with "(PARK NAME) National Park Gallery Pictures" in the subject line please.

*I have tried to accurately represent facts and figures and give the best information possible listed above. If you should note that something is wrong please bring it to my attention with a link to where I can find factual evidence for the contrary. I take no responsibility for this information and offer it as information only. My email is [email protected] and title your email as "Correction: (PARK NAME) National Park" please.