Armenia National Parks Information
Updated: 03/04/2016

The Republic of Armenia might be considered a transcontinental country, as it is landlocked between Europe and Asia, located in the Southern Caucasus, and is considered a part of Europe. Armenia has one of the world's oldest civilisations (Evidence from about 4000 BC) and its native name was originally Hayk, later extended to Hayastan. It is about the size of Belgium, but unlike Belgium is very mountainous.
In Biblical terms, Armenia holds Mount Ararat as a symbol for it's faith. It is believed that Armenia was also the first country to adopt Christianity as it's faith in 301 AD, and the Armenian Apostolic Church is based on the belief that two of Jesus' disciples came to Armenia to spread the message of Christianity.
What is fascinating about the geography of Armenia is that is has seven of the major habitats found on earth. They range from desert to swamp land. Huge forests and alpine meadows cover the country and farmland is relatively scarce. The Armenian's have gone to great lengths to preserve what habitats they have and have set aside nearly 10% of their countries habitats to National Parks (or reserves of special interest), enabling the preservation of rare species. The first Armenia National Parks were established in 1958, laying the foundation for the future preservation of wildlife and areas of outstanding beauty.
In Erebuni Reserve, three out of the four species of wild wheat still exist! Armenia is also creating new Armenia National Parks and Reserves which include, Arpi Lich, Jermuk, Zangezour, Vorotan, Arevik, Gnishik, and Kiranc.
Armenia National Parks:
(Click to learn more about them)
| | |
| --- | --- |
| National Park |  Location |
| | Click to see Map |
Activities Available:
*More activities may be available at individual parks.
Information:
Armenia Tourist Office

Contact details

 Contact Line:
(+374) 542 303 (542 306)
Address:
Armenia Visitor Information Centre
3 Nalbandyan StReet
Yerevan
Armenia
Website:
www.armeniainfo.am
Languages of Armenia
Eastern Armenian
Western Armenian
Russian
English
French (Limited)
German (Limited)
Currency
 Armenian Dram
Population
 2.872 Million (2011 Estimate)
Time zone
4 Hours ahead of GMT
Armenia Website
armeniainfo.am
Inoculations (Suggested)
Traveller Suggested Vaccines:
Hepatitis A
Tetanus
For Some Travellers
Hepatitis B
Rabies
Tuberculosis
Typhoid
Emergency Telephone No.
Main Number – 112 / 911
Police – 102
Medical – 103
Fire – 101
British Travel Advice
www.gov.uk
American Travel Advice
www.travel.state.gov
Electricity
220v-240v – 2 round prong sockets
International Airports
Zvartnots International Airport
Shirak Airport
Drinking Water Quality
Fine, Bottled Water Available
'Pulpulak' (1m high street water fountains) are free to use
Armenia's Land Mass
2 974 300 ha
National Parks Area
225 632 ha
% of National Parks Land to Armenia's Mass
7.59% of Land Mass
% Of AM National Parks To World Land Mass
(14 842 900 000 ha)
 0.000152%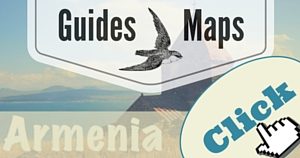 *I have tried to accurately represent facts and figures and give the best information possible listed above. If you should note that something is wrong please bring it to my attention with a link to where I can find factual evidence for the contrary. I take no responsibility for this information and offer it as information only. My email is [email protected]