Lake Arpi National Park in Armenia
---
---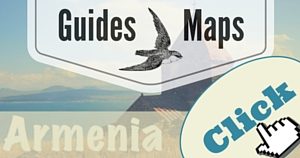 Lake Arpi National Park is a wetlands national park in Armenia. Lake Arpi sits 2025m above see level and is the second largest lake in Armenia and is important for the biodiversity it attracts. Many Migratory birds and nesting birds, along with a unique biosphere have been supported by the WWF in marking this a place of special interest.
The largest colony of Armenian Gulls and the only nesting site for Dalmatian Pelican's in Armenia, Lake Arpi National Park is an important place to preserve. In summer the air is cool due to the altitude and in winter the lake is frozen, so the climate is harsh, so the protection of fragile flora and fauna in the area is very important. Especially working together with the local population.
There are many tours to visit Lake Arpi National Park and the are opportunities to observe butterflies and bird watching here too. If you glimpse the threatened Marbled Polecat, Eurasian Otter or Asia Minor Ground Squirrel, all on the IUCN Red list, then send a photo in so we can show it below in the gallery.
There is a local visitor center that has some information about Lake Arpi National Park in Ghazanchi Village. Lake Arpi is also a RAMSAR site of International Importance.
Maurice
---
Below find stories and adventures for Lake Arpi National Park.
Have you been? Tell us about it – Activities, where you stayed, what you did, how long you went for, what you saw… anything, we love stories!
"Less than 2 minutes to leave your story!"
[rwp-review id="0″]
Videos and Playlist for Lake Arpi National Park
Details
Activities
Gallery
NO GALLEY IMAGES YET! – Do you have some? See below how you can help!
If you have pictures you want to share with me so I can put them in the Gallery, please send them to me at [email protected] with "(PARK NAME) National Park Gallery Pictures" in the subject line please.

*I have tried to accurately represent facts and figures and give the best information possible listed above. If you should note that something is wrong please bring it to my attention with a link to where I can find factual evidence for the contrary. I take no responsibility for this information and offer it as information only. My email is [email protected] and title your email as "Correction: (PARK NAME) National Park" please.